The Arctic is vast. This is not a country nor a continent, but a region high North that is composed of an ocean surrounded by land. The Arctic ocean hosts the North Geographic Pole at its center. All around we find the northern part of Norway, Iceland, the coast of Russia, the Bering sea, Alaska, the Northern Arctic territories from Canada and Greenland. Unlike Antarctica, which is unmanned, you will find several settlements in the Arctic, with different populations and languages. Of course, there are many vast areas that are wild and human-free.
Around 2 million travelers visit the Arctic every year! There are lots of possible ways to travel there and many different ways to discover these places. This is a non-exhaustive list that I will present to you. You can focus a trip on the discovery of:
a new culture (the Icelandic, Norvegian, Inuit, Chukchi...)
the flora, fauna and nature (in Canada, Greenland, Svalbard, Russia, Alaska...)
a sport activity (kayaking, dog sledging, snow-mobiling, skiing, mountaineering, kite-surfing on the snow...)
For the most part, I will describe how to reach these fascinating places by ship. In this manner, it focuses on learning about the nature, enjoying beautiful landscapes, and looking for wildlife. I will also provide a few tips to help plan your trip, should you choose to organize things by yourself.
First of all, please keep in mind that each destination is different and has its own challenges. The polar regions are very arid, as they are cold deserts. This means that the concentration of wildlife is very low. If we know where to find penguins in Antarctica, that's because penguins are seabird and they come back to their colony year after year. The emblematic animals of the North (walruses, belugas, polar bears, reindeers, musk oxen, arctic foxes, etc…) are always on the move and do not make nests. This means that the strategy of traveling to spot animals in the North is very simple: you go to the same places ten times, and you will have ten different experiences: much like a safari. For that reason, you need to see a trip in the high North as an Arctic Safari. There is no plan and no itinerary. You need to be patient, look around for wildlife, and then after one, two, three, four or five days, the magic happens! So far, I have never had a trip focusing on the high arctic without being able to see a polar bear… However, there is always the risk of not spotting one! No one on Earth can promise to spot such an animal. I have had trips where I could see one bear in the distance, and others where I saw many from very close! You must accept this as law, no matter who you travel with.
As usual, in the polar regions you must be flexible, as the entire voyage will be ice and weather dependent. In practice, it is impossible to plan the itinerary of your trip too far in advance.
The landmasses of the Northern hemisphere are actually spread out quite far North. Fortunately, it is relatively simple for us to reach the high arctic with the means of transportation that we have today.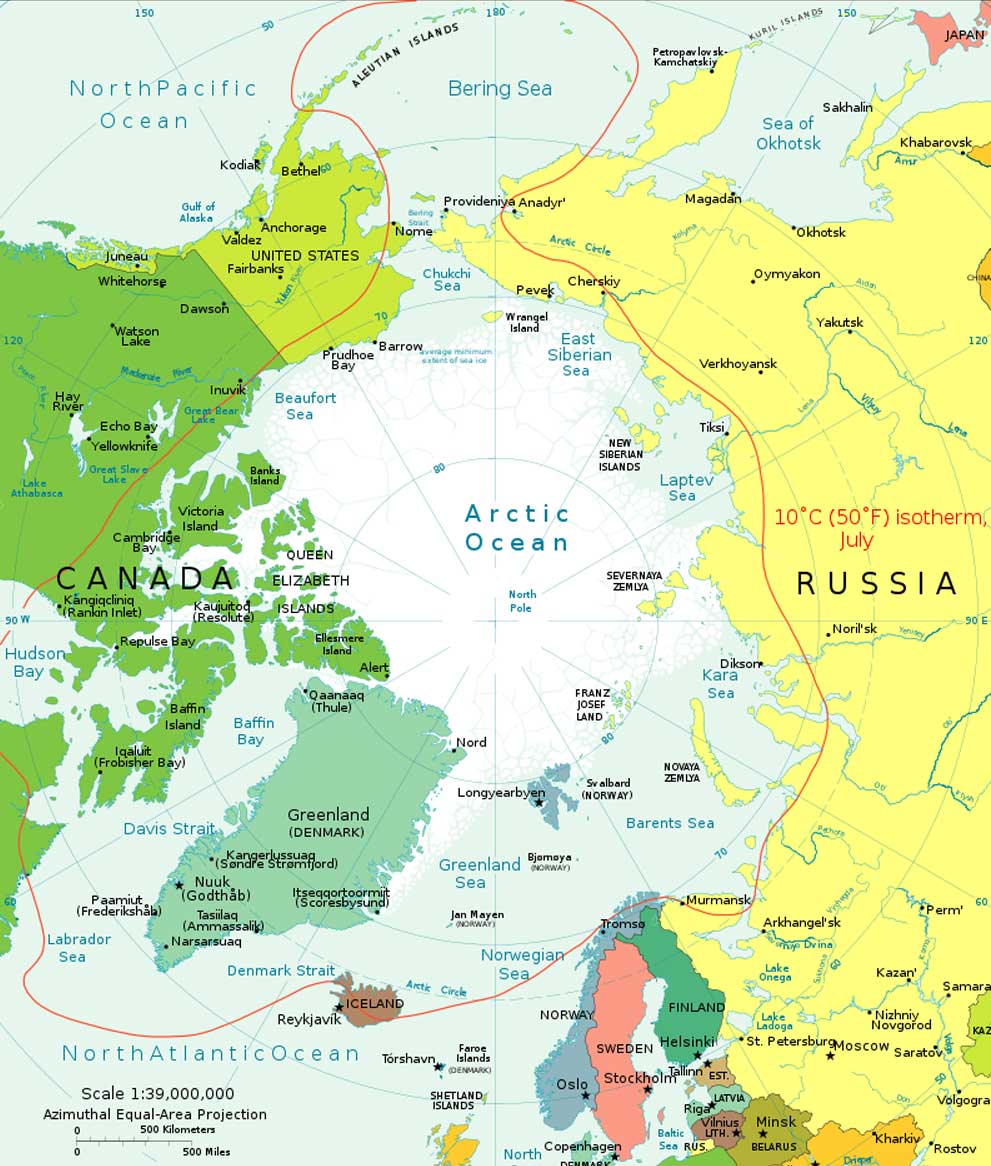 The arctic region is often defined as that area where the average temperature for the warmest month is below +10°C or +50°F (Map: Wikicommon).